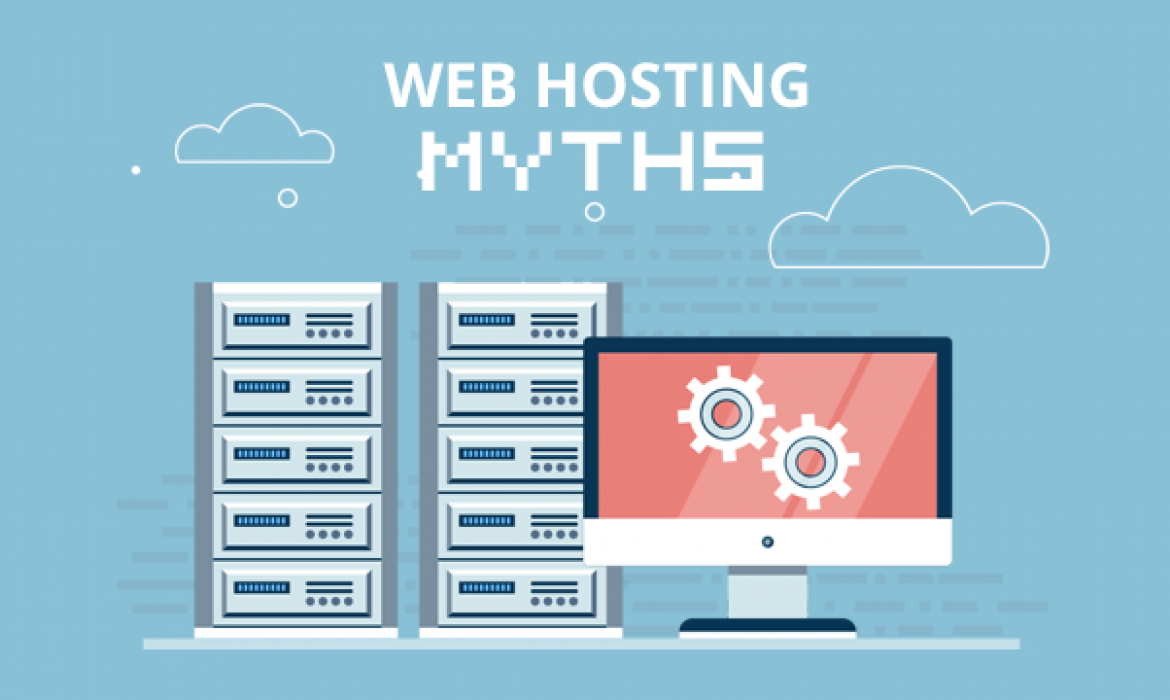 You've realized that if your business or project is going to progress, you need a solid internet presence. Not just a social media page, or a blog on a free platform, your work is serious and you need a dedicated website. So, you've started looking into publishing one and choosing the right webhosting for it.
You googled 'Web Hosting Meaning' and learned that every website needs a physical location, where all its data can be safely stored and accessed by visitors. You now know that that location is called a server and web hosts. Hosts offer their web hosting services, provide servers where companies and individuals keep and manage their websites.
But maybe you have a few doubts or heard a few things about webhosting that you need cleared up. The following are seven misconceptions that you might have about webhosting.
Seven Myths About Web Hosting
1. Hosting is expensive
Perhaps the first assumption that anyone will make about web hosting is that it's super expensive and probably far out of budget. This is wildly untrue. It'll only take a quick search to reveal that web hosting is offered in a range of prices and service packages fit for any budget some even offer hosting for free. Most of these packages are very affordable. A basic or beginner packages can start as low as $2-3 monthly. Web hosts are aware that different websites will have different needs. Therefore, they have scaled their offerings to encompass all of them. The price of your hosting depends only on the price of your needs.
There are different kinds of hosting available for everyone:
Free hosting: Some webhosting companies offer free hosting, though usually very limiting and not fit for most business needs.
Shared Server: This involves hosting many websites on a single server, sharing resources, in order to reduce costs.
Virtual Private Server (VPS): virtualization technology partitions websites on the same physical server. However, these users benefit from dedicated space and allotted resources that function like a dedicated server.
Dedicated Server/Managed Hosting: This is when a host offers an entire dedicated server for a single client.
Say, for example, you're a photographer who wants to make a professional website to feature your profile and your portfolio. Chances are, you only need one website (one domain) with minimal storage and bandwidth. In that case, a basic plan (in the $2-5 range) would be just right for you.
In comparison, someone looking to start a new blog that is expects significant growth in traffic and regular updates, require more storage and bandwidth. This user could opt for a dedicated server on premium, limitless packages.
When choosing your server, the important thing is to know your website's needs. Once you do, you can begin comparing prices and features that meet them. We always recommend choosing a web hosting services company with plans adapted to your needs.
2. You need a professional web developer
You may think you need a professional web designer, proficient in coding and all things internet, in order to get started with a host and build a website. However, the entire process might be easier than you think. Content Management System (CMS) applications such as WordPress make web building easy, even if you know nothing about coding. Signing up for hosting is a matter of doing a bit of simple research into what host best suits your needs. Usually these hosts will make it easy for you to sign up and start building your website by having intuitive host platforms and robust support, ranging from a bunch of informative articles to technical customer support.
If you think this isn't true, just go to the landing page of any web host you can find. There's often more than enough information — and links to more resources and information — to get you started.
3. You can't switch hosts
Another belief some have is that once you've chosen a host, subscribed to the right package and bought and registered your domain name through this host, you can't move your website to another host. This is categorically false. You can quit one host and migrate your website to another host server whenever you want. You just need to know how.
How easy or difficult it would be to migrate a website depends on the size and scope of the website and whether or not your domain name was registered through your host or a third-party registrar.
Put simply, moving a website is just a matter of backing up all the data from the first host, uploading it to the second, and then transferring the registration of your domain name. Of course, there are a few technical steps involved, but depending on the size and complexity of your website, it shouldn't be too difficult. Generally speaking, changing hosts will involve:
Signing up with a new host: It's important to do this and make all the transfers BEFORE cancelling your subscription with the host you're leaving.
Downloading/Exporting all files and databases: Remember you're moving all the contents of your website to a new server, so you will need to back up your website and all those files and databases to be moved.
Uploading/Importing all files and databases: Everything backed up from the previous host should now get added to the new host.
Running tests on the new website: To ensure that everything is functioning as it should.
Changing your DNS records: Your DNS records need to be switched so that they point to the new host server and when your visitors enter your web address it will take them to the site on the new host.
Remember when we said a factor that determines how easy you can switch hosts is whether or not your domain is registered? Well, there is a 60-day lock on newly registered domains. This means you need to wait until this period is up before transferring it to a new registrar. If you only recently registered your domain with your host, you won't be able to transfer that registration to another host/registrar for those 60 days. However, if your domain was registered with a third-party registrar (not the new or old hosts), setting up your domain with the new host should be relatively easy, as all you'll need to do is change the DNS configuration for the new host.
4. VPS is the same as shared servers
Now, we've already briefly mentioned what VPS and what shared server hosting is. However, some think that the nature of VPS makes it no different to shared hosting. This is false.
What VPS and shared hosting have in common is that websites share the same physical hardware (server); the major difference is that VPS uses virtualization technology that creates a dedicated space for your website, complete with its own allotted resources and storage space. It's like having a virtual dedicated server within a physical server. Your website wouldn't be competing with other websites for the same resources on the same servers, as with using standard shared server hosting. With no sharing of resources, you can expect overall better performance of your website.
This type of partitioning also ensures that your site is more secure, regardless of the activities from other websites using the host server. These servers also host much fewer websites and offer a lot more storage and bandwidth than shared server services.
5. Hosts are responsible for the security of your website
Speaking of security, if you run a website, especially one involved with ecommerce, security of that site must always be of utmost importance. There are far too many nefarious agents out there who might want to attack your site for one reason or another. However, you may think that once you sign up with a web host then that's it, they will take care of all the security of your website. That's a detrimental miscalculation as security options vary by host.
While all webhosting companies have to have some form of protection for their servers and the websites on them, often there are some security measures that individual website managers must take for their protection. These include:
SSL certificates
Installing a Secure Sockets Layers (SSL) certificate to a website is a must, especially for ecommerce. It encrypts data transmitted between your site and its visitors. It gives us the "s" in "https" and lets users know your site is secured.
Back-ups
Backing up all the data from your website to another server and/or local drive is a good way to protect against losing data. Also, if there's a problem causing downtime, as a quick solution you can switch to a previously backed-up version of the site that doesn't have that issue.
Limiting admin access
Limit the number of persons with admin access to your site. Often you can also have different levels of access, giving some persons more restricted access to work on your site.
Password best practices
Use secure passwords that can't be easily guessed and consider changing passwords at regular intervals.
Avoiding unsafe plugins, themes and apps
Some plugins and applications may come with vulnerabilities that affect your site or be outright harmful or malicious. Use only trusted applications on your website and keep them updated.
Regular Updates
Yes, regular updates of your CMS and all other applications used in your website's development is good practice. Updates don't just improve on function and features, but also security and vulnerabilities.
Using Security applications: Applications that protect your website from malware and hacking are a must. Web hosting platforms typically have those additional security options available and/or allow you to install them.
Needless to say, be proactive when it comes to the security of your website. Any small act of carelessness can bring even a secure website crashing down.
6. Hosts are not responsible for the security of your website
So, we just discussed the importance of working to ensure your website's security, but that doesn't mean your web hosts +*don't have a role to play as well.
Firstly, they own the servers. They are responsible for making sure that the hardware the physical servers – are kept secured and maintained from any physical attack or damage. Hosts also need to do regular network monitoring against hacking and any unauthorized activity on their servers. Their servers are their business, so they need to protect it.
Think about it: If your website is hosted on a shared server, it's not only vulnerable to direct attack, but an attack on another website could potentially cause problems with yours, leading to downtime, which can be a nightmare. A good shared server host would take precautions to ensure the security of that server overall. They may even screen and ban certain plugins that are potentially harmful.
There's a varying balance between how much protective responsibility a web hosting company will assume and how much responsibility is on you, the client. It depends on the hosting service.
A good webhosting services company might offer some amount of protections in its packages, including:
Web hosting meaning DDoS protection
Free SSL certificate
Malware Detection and Removal
Hack Protection
Automatic Backups
What's more, if not included in their primary packages, a good web host ought to offer its users good security options and allow for the client to install security software and implement security measures themselves, such as the ones from the previous myth.
It's clear that when thinking about how to choose a web hosting service, security options should be a must. However, don't forget you should also take individual responsibility to ensure your site's security.
7. Standard hosting is as good as WP hosting
What is hosting?
Webhosting (otherwise called website hosting) is an online service that allows site owners to store their website and files on a rented server. Hosting is a popular online service that every single website needs down to WordPress. However, standard hosting is a private service that can be configured to suite a host of jobs like email hosting, database hosting, domain hosting and much more.
Standard hosting, in all its forms that we've discussed, can work just fine for the needs of most websites. However, if your website is developed on the WordPress platform, you might want to consider going for WordPress Hosting.
You may be asking 'What is WordPress hosting'?
Good question. A lot of people, having heard the term, may think that it's all the same. Even after knowing a bit about it, they might still think there's a difference. So, what's the difference?
WordPress hosting is a service many web hosts offer for clients who develop their sites using the WordPress CMS platform. In WordPress hosting, the service and servers are tailored specifically to host WordPress sites, giving added value through increased performance and security. The servers used for WordPress hosting are built with WP and it's make and vulnerabilities in mind. Because of this, WordPress hosting offers an optimal hosting environment for websites that use this CMS tool. You can expect faster load times, more stability (less downtime) and more security. WordPress hosting also includes specialized support, auto-updates and one-click installations for the WordPress platform. In this way, WordPress hosting is a service tailored to WordPress sites.
Conclusion
Standard hosting does not offer that, even if they have a WordPress option, they probably cater to many different CMS tools and are less specialized because of it. This should clarify the different web hosting meaning
Related Posts